Il finto Arlecchino:
il teatro sintetico-melodrammatico
di Gian Francesco Malipiero
(«Rivista di Musicologia», n. 59 / 2017, SidM)
https://www.sidm.it/ojs/index.php/ridm/article/view/914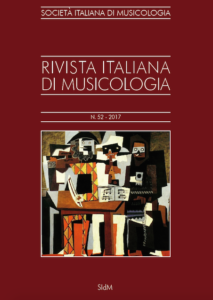 ---
Abstract:
Il finto Arlecchino, piccola commedia musicale scritta da Gian Francesco Malipiero nel 1925, rappresenta una speciale opportunità per chi intende comprendere la riforma musicale messa in atto dal compositore veneziano. Opera sintetico-melodrammatica per eccellenza, può essere considerata la metafora del conflitto tra due differenti modalità canore, il "cantar bene" e il "bel canto", rappresentate rispettivamente dall'eroico Arlecchino / Don Ippolito e dai goffi pretendenti di Donna Rosaura. Malipiero adopera l'artificio della competizione canora per costruire una divertente, quanto mordace, parodia dei vizi del teatro dell'Ottocento e del Novecento, in continuità con le riflessioni presenti nel saggio I profeti di Babilonia (1924). Il libretto della commedia è un collage di antiche poesie italiane giocosamente interpolate e variate: il compositore manifesta la sua tensione spirituale verso il mondo dell'Arcadia, citando i poeti Magalotti e Rolli e il 'prediletto' Poliziano e ricreando lo spirito del primo melodramma italiano.
Il finto Arlecchino, a small-scale musical comedy written by Gian Francesco Malipiero in 1925, constitutes a paramount opportunity for those intending to understand the reform of musical theatre carried out by the Venetian composer. A 'synthetic-melodramatic' opera par excellence, it can be considered a metaphor of the conflict between two different singing models, namely the 'cantar bene' (singing properly) and the 'bel canto': these are represented by the heroic Arlecchino / Don Ippolito and by the funny suitors of Donna Rosaura, respectively. Malipiero used the narrative artifice of a singing competition and built up an amusing, yet mordant parody of the vices in the eighteenth- and nineteenth-century theatre, with a clear-cross reference to the reflections he previously presented in the essay I profeti di Babilonia (1924). The libretto of the comedy is a collage of old Italian poems presenting several interpolations and variations: the composer went back to the Arcadia poets Magalotti and Rolli and to his 'favourite' Poliziano to recreate the spirit of original musical theatre.
---
Il mito di Filomela:
riferimenti letterari e simbologia
in filomela e l'infatuato e merlino mastro d'organi
di gian francesco malipiero
(«Studi Veneziani», n. 78 / 2018, Editore Serra)
Abstract:
Filomela e l'Infatuato e Merlino Mastro d'Organi, originariamente concepiti come parti d'un dittico dal titolo Il Mito del Filomela (1925-1927), si inseriscono nell'ambito del teatro sintetico-melodrammatico del primo Malipiero. La trama del libretto di Filomela, scritta da Malipiero stesso e sviluppata nel criptico Merlino, trae temi e simboli dall'universo letterario di Ernest Theodor Hoffman, in particolare dal racconto Don Giovanni e dalla rielaborazione hoffmanniana ad opera di Jules Barbier I racconti di Hoffmann, ma si espande in un gioco caleidoscopico, accogliendo spunti dal Sogno d'un tramonto d'autunno di Gabriele D'Annunzio e da altre fonti minori. I materiali lirici delle arie sono tratti dalla 'poesia delle Origini', da Jacopone da Todi alla Scuola Siciliana. Le due opere anticipano soluzioni drammaturgiche messe in atto nel Torneo Notturno (1929) e nei Giochi Olimpici (1930).
Filomela e l'Infatuato and Merlino Mastro d'Organi, originally conceived as parts of the two part series Il mito di Filomela, place themselves in the sphere of 'sintetico-melodrammatico' of Malipiero. The plot of the libretto of Filomela, written by Malipiero himself and developed into the enigmatic Merlino, draws themes and symbols from the universal literature of Hoffmann, in particular Don Giovanni and of the Hoffmann version of the work by Barbier I racconti di Hoffmann, but expands itself into a kaleidoscopic game, gaining influence from Sogno d'un tramonto d'autunno by D'Annunzio and from other minor sources. The lyrical material of the arias are drawn from the first italian poetry by Jacopone da Todi, Sicilian School, etc. The two works anticipate narrative examples put in practice in Torneo Notturno and I Giochi Olimpici.
---
Maria egiziaca:
analisi del mistero-lirico respighiano
(In preparazione)